"The Redmi K30 5G phone is expected to launch in early 2020 and will feature a Snapdragon 700 series chipset"
The price of the Redmi K30 could be higher than that of its predecessor if the latest hint from the brand's general manager, Lu Weibing, is valid. Although Weibing has yet to disclose the exact price of the next Redmi K30, in response to a question asking if the price of the Redmi K30 will be over CNY 2,000 (around Rs 20,000), Weibing simply responded by saying that " 5G SoC is still very expensive "(according to the translated text). This seems to be a clear clue that the price of the handset will be north of CNY 2,000 in China and, likewise, higher than the predecessor's Rs 21,999 price in India (provided the 5G variant is launched in the country).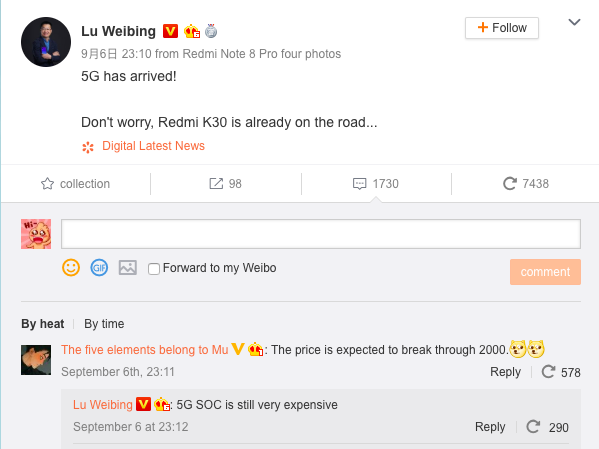 For those who don't know, Lu Weibing confirmed at the end of last month that Redmi K30 is already on the way and the smartphone will support 5G. Earlier, Qualcomm announced that Redmi was among the first brands to use the Snapdragon 700 chipset supporting 5G. Redmi has since announced that it will be the first brand in the world to use the Snapdragon 700 series chipset with 5G support, but as OPPO has also claimed the same, we'll have to wait and see which brand manages to do so in first.
Considering that at present iQOO Pro 5G is the cheapest 5G smartphone on the market with 5G support and sells for around CNY 3,800 (around Rs 38,000), Redmi K30 is almost certain to to be the most affordable smartphone to support 5G at launch. . Keep in mind that although the 5G Snapdragon 700 series chipset is commercially available this year, smartphones with this SoC will not be released until early next year.
As a reminder, shortly after the announcement of the Redmi K20 series in India, there were complaints from the community regarding the price of the Redmi K20 in particular. With the brand facing stiff competition from Realme, which has already confirmed plans to launch a 5G smartphone in India, in the mid-range segment, the competition can be expected to become fiercer with the dawn of the market. 5G smartphones. If Realme manages to launch its 5G handset below Rs 20,000 in India, it will indeed give Xiaomi a run for its money. Since there is a lot of speculation involved at this point, we'll just have to wait and see how the story plays out.